Larry Lawrence
1946-2019
When Larry was a young man, he had his car repaired at a local body shop and was very dissatisfied with the results. Being mechanically inclined, he decided to try to improve the repair himself. Automotive work turned into a hobby for Larry. This eventually led to the opportunity to paint specialty vehicles for the International Auto Show in Detroit along with Johnny Rutherford's winning Indy car (1974-77), and in 1977, the pace car for the Indianapolis 500. This was also the year Lawrence Auto Body was opened, and he was proud to say he was able to bring the expertise and quality required at this level, into our collision repair business.
Larry Lawrence
Founder of Lawrence Auto Body
Kate Lawrence
Partner
In 1989 I joined Lawrence Auto Body after working in the insurance industry for 12 years as a claims specialist, this experience had given me a real advantage in the process of handling your auto claim and getting what's best for you and your car.
Along with being fully involved at Lawrence Auto Body, I have a passion for staying involved in our community. Lawrence Auto Body has been a Brighton Chamber of Commerce member for over 40 years. I am a charter member of the Livingston Sunrise Rotary Club. Our family are lifetime members and supporters of The Brighton Area Historical Society.
For 8 years, I served our community as Mayor for the City of Brighton and am currently serving as a Livingston County Commissioner.
I fully understand the problems you face when you are without your vehicle and will do everything in my power to get you rolling again. You have my word on it.
Mike Lawrence
Like my mother and father, I am a graduate of Brighton High School. I also hold a Business Management degree from Grand Valley State University, 2006.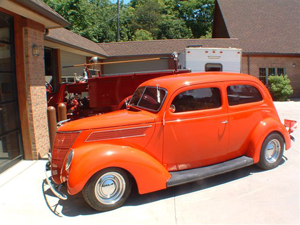 I try to incorporate my experience at an educational level into our family business at a operations level. We strive to improve our operations every day, raising the level of customer satisfaction.
I worked for Lawrence Auto Body throughout high school and summers during college. In fact, I have been state certified in collision repair since 2001, when I was a senior in high school. My primary training in collision repair is an apprenticeship under my father Larry, who is one of the best in this business! I have completed a variety of educational classes to ensure Lawrence Auto Body is equipped with the latest techniques and materials. I am especially interested in fine paint finishes and I am currently studying new "green paint technology," which is the future af auto refinishing.
At Lawrence Auto Body, we are fully dedicated to giving you the highest level of repair in the shortest amount of time.
You have my word on it!
Mike Lawrence
 
We'll explain your repair in language you can understand and try to take some of the trauma out of your repair experience by doing a quality repair and getting your car back to its former glory! You have our word on it! 

Kate and Mike Lawrence,
Lawrence Auto Body